Are you making serious money like R35,000 every two weeks in Centurion? - Centurion
Friday, 14 October 2016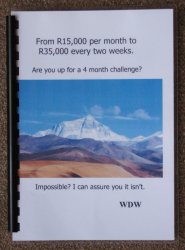 Contacts

Johan

0748991101
Item description
Ask yourself this question, why can't I earn R35,000 every two weeks for doing what I want to do and like?

This book addresses exactly this question and helps you to come to terms with it and helps you to realize that there is much more to life than meets the eye.

If you think you can do something and you think more and more about it, it will be realized in your life. This book guides you which path to take to great extent.

This book is filled with action steps and you will realize, the more action steps you take, the closer you get to your desired life.

If you are battling with procrastination, this book helps you with this problem as well.

Most people go through life without even looking what is on the table of opportunities. This book helps you to realize it.

Are you taking the promises of God that He has made available to you?

Are you living a stressful life, living from pay check to pay check? This book helps you to actually live an abundant life.

Are you confused and troubled because you feel you are getting nowhere? This book helps for these scenarios in your life to great extent.

As part of this book promotion you receive free delivery and the price is R499.

Simply reply to this message with your name and surname, contact and delivery address and we will send you an invoice.

Once payment is done send us a proof of payment and we will ship it within 24 hours.

Don't you think it is time for you to live a carefree life the way it is meant to be?

Don't think for one second that you are destined for an average or less than average life.

I have applied this book to my entire life and believe me free, I am truly reaping the rewards of that of what I have sown. If I can do it, so can you.

At first I really believed that this idea of living the dreams of my life was a pipe dream. It isn't at all. This book is filled with so much information that it will literally transform your mind and expand your horizons.

You are not meant to live poor but abundant, the quicker you realize this, the better.

God made you in His image. What do you think this means?

I was a very lazy person and thought, what if this book can really help, what can I do right now to bring the life of my dreams into my reality?

If you are honest with yourself, you will realize that you have these same questions.

You don't need to ask anymore because this book is the answer.

You don't need any other books to teach you to become successful in life. This book is the whole solution.

Once you receive your book, you will have access to a whole new level of support to guide you and make sure you are on the right path and stay on it. There is nothing difficult to understand about this book as it was created with great simplicity in mind.

Get Your Copy Today!

For More Information you can contact Johan today.