The Diet Everyone Talks About - Centurion
Thursday, 19 January 2017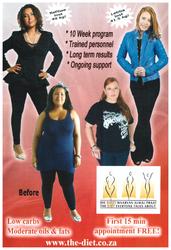 Contacts

Annemarie

072 264 3626
Item description
The Diet Everyone Talks About
We are in the first month of a brand new year. Another chance to turn things around and make it better for yourself. Change those unhealthy eating habits. Invest in yourself and start feeling healthy and full of energy; and also look the part. It's never too late!

Start today by taking the first step – phone a clinic in your area. We are all well trained to help you.

You can reach me on 012 654 3284 or 072 264 3626. I am at the Centurion clinic. Look forward to taking the journey with you.

Visit our website www.the-diet.co.za for more information on the diet.